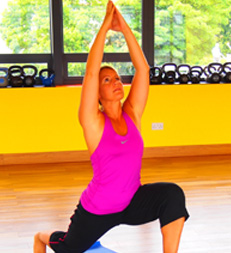 I have over 14 years experience as a Personal Trainer and I am over twenty years practicing Martial Arts to black belt standard through which I have trained or taught thousands of various client types. I have a tough but realistic approach,which allows my clients to understand their true potential,this builds confidence and they quickly achieve their goals.

My path started from the age of 12 when I began training in the art of Tae Kwon Do. I received my black belt in TaeKwon Do in 2000. I have continued to take part in many seminars and have understudied with many of the finest martial artists in the world .I have taught martial arts to students ranging from four years to sixty years. I personally designed a self defense course for women and toured nationally promoting awareness and safety to many women and children.
I competed for many years and have won various titles, but my martial arts career ended prematurely when I was involved in a car accident, which lead me to seek out a healing therapy which could bring me back to full fitness. I became involved with yoga upon my doctors advice. My then serious back injury was healed completely through daily yoga practice. I decided to study yoga to a gain a deeper understanding of the body versus mind principles its based upon.
I completed my diploma in Yoga in Dublin went onto under study in Greece and Dubai. I have been teaching since I qualified in 2003. I continue to study Yoga today in it's various forms, as this life with Yoga journey is never complete.


Through yoga I became familiar with Tony Quinn and Tony Robbins. They practice advanced mind technology and I use practices in techniques like N.L.P to achieve better results with my clients.While teaching martial artsI became interested in the effect of our modern foods on the body and mind. It helped me choose a Professional Chef course in Galway RTC. I worked in some of the top hotels and restaurants in Dublin, London and America for over 11 years, all the while honing my skills as a trainer. I trained to be a Professional Personal trainer when I had reached the pinical of my cooking career. I took six months off to understudy with some of the top fitness experts in America and the Carribean.

I took my first steps as a Professional Trainer and Yoga teacher in 2003 in Westpoint Gym in Blanchardstown. I have had many success stories during my time there but I always knew I needed to find a way to combine my cooking expertise and knowledge of heathy eating with my skills as atrainer to further develop my business and teach a wider set of skills to clients. In May 2010 I took the next step and set up my studio in Castleknock beside the Phoenix Park. In November 2011 have opened new studio in Blanchardstown unit 4 St Brigid's Centre.

2016 Diploma and QQI in Executive and Life Coaching accredited by the Life and Business coaching Association of Ireland.
Sue Fraser
DIP YOGA, M.I.C.H.A, M.I.T.A, I.A.S.S.A,TRX® Level 1, Diploma in Executive and Life Coaching and the QQI award.
Tel: 086 813 7257